3 November 2023.
Bushfires have wreaked havoc through Queensland - with the state's peak representative body for farmers urging people to give all the support they can to organisations such as Rural Aid to help primary producers back on their feet.
The unprecedented fires so early in Spring have devastated more than 270,000 hectares of central Queensland leaving a fire scar one quarter the size of the greater Sydney area, and at least 50,000 hectares of the Burnett region.
Around 10,000 hectares of land has been destroyed around the Dalveen region on the border country of the Southern Downs.
AgForce Queensland General President Georgie Somerset says the toll on farmers caught in the fire's path is immense, as it is felt on a number of levels.
"These fires have been very fast moving and have destroyed a lot of dry feed for our stock, which leaves people in that difficult position with animals and very few feed options," Ms Somerset says.
"And unfortunately because of the season we've had, there's not a lot of available feed in the area either. We've actually lost a lot of grazing country in the Carnarvon, the Burnett and now also in the Southern Downs area.
"Organisations like Rural Aid are very good at the logistics of actually getting the stock feed to where it needs to be and working with those people to make sure that they've got options."
Emergency fodder is being dropped throughout these regions to ensure stock don't suffer and can hopefully recover from the damage wrought by the bushfires.
While the Department of Agriculture and Fisheries is coordinating initial fodder drops to beef producers, the scale of the help required means extra assistance is now being sought from AgForce and Rural Aid.
Together they will ensure that stock are fed until producers can plan management of their cattle - or until rain comes - whichever comes first.
Another aspect that Rural Aid and AgForce are assisting with is mental health support to affected producers.
Ms Somerset says supporting farmers even with a small donation to Rural Aid helps them feel supported through a devastating time.
"There's a lot of decisions to be made, which is challenging for people," she says. "And Rural Aid also have counsellors, so by supporting Rural Aid people can know that they're providing stock feed and some immediate support there, but this support can also be put towards psychologists that are on the ground in those areas."
She says Rural Aid have experience in helping producers through crisis, but a donation helps ensure the complexity of needs is met.
"Producers are managing this really well and local communities are rallying around people and obviously we've got the DAF emergency fodder drops, but producers are going to need more feed going forward," she says.
"And the difficulty of procuring that feed is the challenge for us now."
AgForce is urging people to keep in mind basic biosecurity considerations during the recovery phase.
Tips to keep in mind include encouraging drivers to keep to well-used roads and tracks wherever possible, and to be wary that livestock will suffer long term immune function impacts because of the bushfire, although the animals recover as time passes. Paying attention to how herd health is managed is now the priority.
Also areas where fodder has been dropped need to be monitored for unfamiliar plants because of the risk of weeds taking hold on the bare ground.
Rural Aid CEO John Warlters says they are already on the fire ground providing support.
"Rural Aid was quickly able to switch on the fodder and well-being support that farmers need in this current bushfire crisis," Mr Warlters says.
"We persist in delivering our usual services and support, particularly in regions experiencing low rainfall, while also working with industry and government to help our mates in the bush when they need us most.
"With tens of thousands of hectares of pasture wiped out in the bushfires, many farmers and their communities will need ongoing disaster recovery support.
"We have been doing this since 2015 with the original "Buy a Bale" campaign and we are asking people to support us now to continue this vital work."
Attached image:
Carnarvon fire scar overlaid on greater Sydney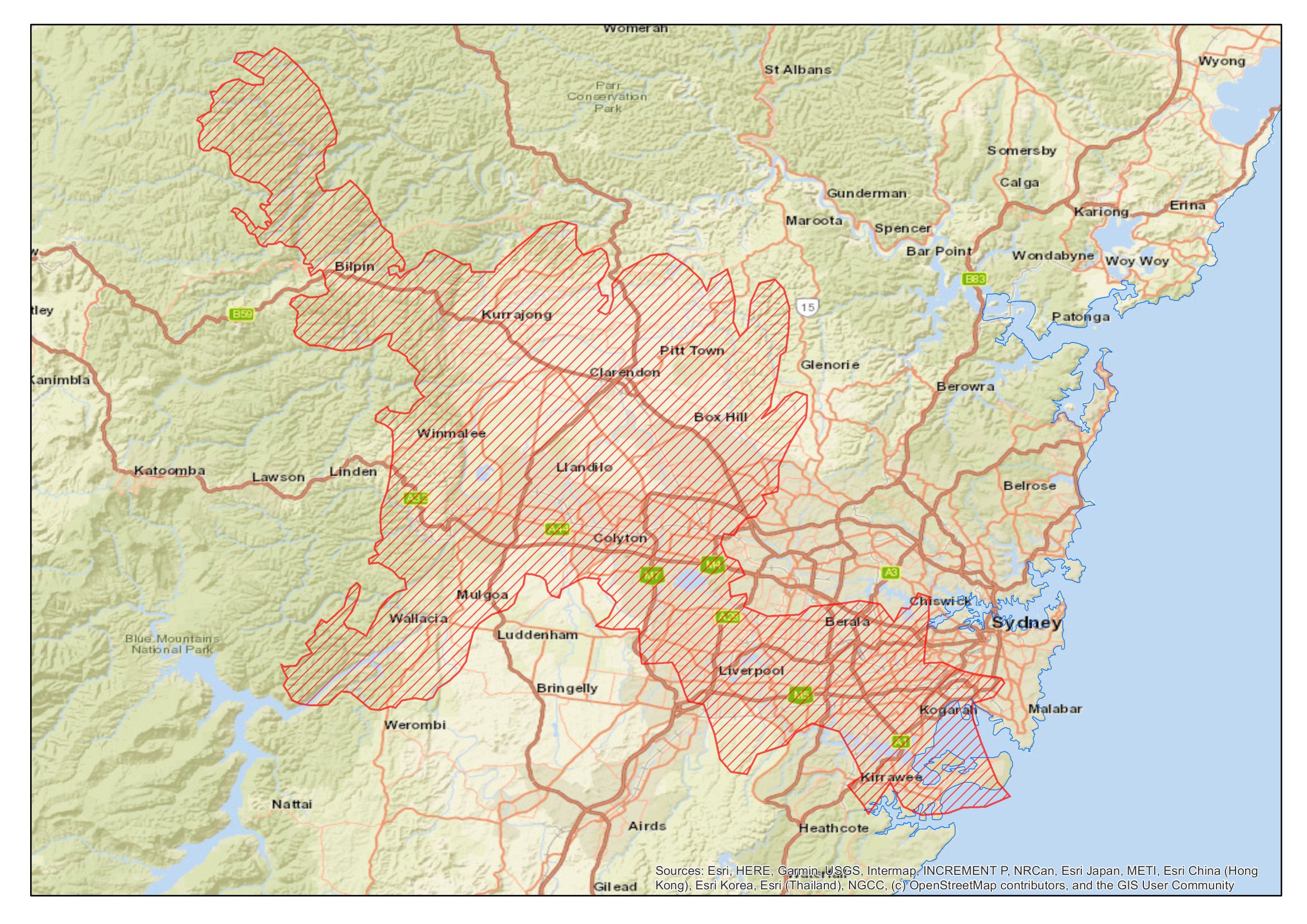 For media comments contact:
AgForce CEO Michael Guerin: 0488 002 092