10 November 2021.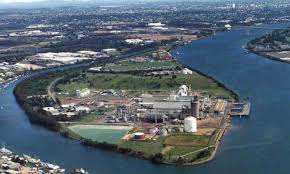 AgForce is fighting for Queensland growers, following news that fertiliser giant Incitec Pivot will shut its Gibson Island manufacturing operations next year.
The announcement comes as a further blow to the state's grain producers as they gear up for a promising summer cropping season.
With fertiliser prices already on the rise due to international shipping disruptions, shipping container shortages, industrial disputes, and geopolitical manoeuvring, the closure of the Brisbane plant (blamed on LNG supply issues) puts a further strain on resources.
It also goes against the desire of Queensland growers who have for a long time now called for more secure sources of locally produced inputs for our farming systems.
AgForce's Grains President Brendan Taylor said while a short-term fix to the situation was "nigh on impossible", he was aware of the issues facing growers and would continue to "fight the good fight".
"We have received unseasonal November rainfall, the most that I can remember for some time, and this would normally set us up for a great summer cropping program," he said.
"However, due to the extreme prices of fertiliser and crop protection products, growers are really having to consider their options of what crop to grow this summer and the next winter as well.
"To see a plant right on our doorstep close is extremely disappointing, particularly because it is at times of high international pricing that the importance of local manufacturing really comes to the fore.
"The elephant in the room is that the clean, green, sustainable produce that we are so proud of producing here in Queensland is so reliant on imported inputs on an often volatile world market."
AgForce is working very closely with the National Farmers' Federation to influence onshore issues affecting our fertiliser supply and is partnering with other industry sectors to develop innovative solutions for the grain producers of Queensland.
We are also calling on both the State and Federal Governments to not lose sight of where Australia's food and fibre comes from, and what we need to grow it.
Growers are encouraged to take this opportunity to carry out detailed soil tests and understand what inputs they truly need in order to harness this exciting summer that looks to be coming in wet - for the first time in many years.