12 October 2021.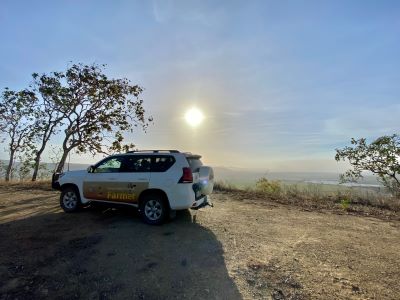 Everyone talks about "harnessing the potential of the north".
And as one of its key five priority pillars, the AgForce Grains Board is determined to progress the conversation around developing the region from one of rhetoric and potential, to one of practical change - clearing the path for meaningful and beneficial development for landholders, for regional communities, and for Queensland.
So when we hit the road for our North Queensland grains tour recently, we were determined to make the most of the opportunities that came our way.
Over 13 days we travelled more than 5000km - traversing from Weipa to Ayr, via Lakeland, Georgetown, Julia Creek, Hughenden, and many member properties in between - to take a detailed look at what is standing in the way of landholders in their quest to realise the true potential of the land they manage.
Issues discussed included vegetation management, water, information extension, and infrastructure, with AgForce's General President Georgie Somerset, Grains Board Directors Ken Cunliffe and Stephen Marshall, and AgForce Policy staff Nikki Hoffman, Greg Leech, Dale Miller, and Grains Policy Director Cam Parker on hand to listen to local producers and answer questions.
One of the key outputs will be a clear articulation of the common issues facing Queensland's northern landholders and a strong advocacy pathway for AgForce continue to be the voice of broadacre landholders in North Queensland.
And while the potential of North Queensland to have a significant grains industry and broad scale farming remains locked, AgForce is advocating strongly on the issues that count.
Watch this space in the coming weeks for more material and findings.
Lastly, many thanks to all the members who hosted us or came along to gatherings – we enjoyed and appreciated your support.
Make sure you check out our Facebook page for our picture gallery from the trip.