6 September 2021.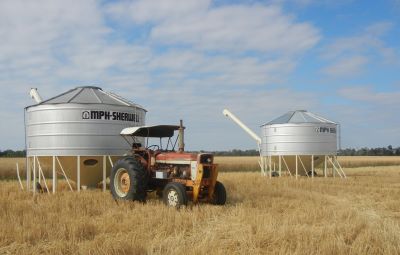 AgForce has been working with the Department of Agriculture and Fisheries to facilitate a successful harvest, undertaken in a COVID safe way to protect workers and regional communities.
We are urging producers to be aware of all the details and to plan ahead so you can have confidence you can cross the border where necessary – and we remain happy to assist members.
Grain harvesters and support crews moving across states as part of the 2021 Queensland grain harvest should be planning their travel and commencing isolation arrangements now.
DAF is recommending workers self-isolate to reduce the risk of contracting COVID-19 either before leaving or on route to Queensland to protect harvest crews and to help facilitate a successful harvest.
Businesses need to undertake business continuity planning to consider how they would operate if one or more workers was required to quarantine and unable to work. Based on Queensland Health advice, if a COVID-19 case is detected within a harvest crew, all workers who are close contacts—either because they have come into contact with the worker, or because they were at an exposure site at the same time as a positive COVID-19 case—will need to quarantine. These workers will be unable to enter Queensland, or if they have already entered Queensland, will be quarantined and unable to continue harvest operations.
Harvest contract crews entering Queensland from a hotspot must have appropriate arrangements in place for isolating after they cross the border, which could be COVID Safe plans if travelling under the Queensland Freight Protocol or quarantine management plans for specialist or essential workers (or farmers or agribusiness workers coming from the NSW Border Zone).
If you are moving equipment with an associated workforce travelling together into Queensland and you have been in a hotspot (New South Wales and Victoria) within the last 14 days, you can apply to enter Queensland by following the requirements under the Freight and Logistics Pass—F pass. For freight and logistics workers it is recommended, but currently not mandatory, that you have had at least one dose of an approved COVID-19 vaccine.
Freight operators working only in the NSW border zone also have the option of using a Border Zone Travel Pass—X pass to continue their business, but they must have evidence of having had at least one dose of a COVID-19 vaccination.
Essential or specialist workers needing to cross the NSW–Queensland border for the grains harvest, can apply for an exemption to come into Queensland, but these are only granted for critical reasons—meaning the work is so essential that without the worker, the facility or industry may be unable to continue, and that there is no-one else in Queensland who can perform that work. If you are granted an exemption to enter Queensland from a hotspot, you are still required to isolate in accordance with your approved Quarantine Management Plan for 14 days while you work but are exempt from the requirement to enter hotel quarantine.
If you have come from a hotspot other than the NSW border zone, your business will need to apply online for an exemption for you as an essential or specialist worker (Queensland entry pass – Essential or specialist worker—S pass). Please allow a minimum of 7 business days for assessment and a further 3 days to obtain your border permit once you have received endorsement as an essential or specialist worker.
For farmers and agribusiness workers moving between Queensland and the NSW border zone, a class exemption (PDF, 96KB) granted by the Chief Health Officer is in place until 30 November 2021. It is only for movement associated with performing essential farming or agribusiness work, and workers must have evidence of having had at least one dose of a COVID-19 vaccination. You must apply online for a Queensland Entry Pass – class exemption – Z pass. Please allow a minimum of 3 days.
You can move across the NSW–Queensland border multiple times using the exemptions and passes listed above, as long as the movement is still for a critical purpose, such as transporting grain to the silo. However, if you are travelling under the Freight and Logistics Pass, you need to be travelling together with your heavy vehicle. 
If you need to source parts or inputs from across the border, you should arrange for these to be delivered using a commercial freight provider in the first instance. 
More details about the above information and the requirements for each jurisdiction will soon be available on the Business Queensland website.
Border restrictions and passes
We've prepared resources to help you better navigate each situation and its requirements through our reference table, flowchart and FAQs—all can be found in the alert box at the top of this webpage.  
Always carry your documentation with you including evidence of vaccination to avoid being turned back at the border. We are assisting the Queensland Police Service at the border, but the decision to allow you to cross is at their discretion.
Seasonal workers—use Check In Qld app and checklist
A seasonal worker is a person who travels to, or within Queensland for work as it becomes available, requiring them to relocate and stay in temporary accommodation. This includes Queensland residents who are staying away from their permanent residence for work.
Seasonal workers can be skilled or unskilled, including highly specialised skills.
Agribusinesses employing seasonal workers are now required to use the COVID Safe Checklist and the Check In Qld App.
The COVID Safe checklist requires these businesses to manage COVID-19 through a work health and safety risk management framework.
Agribusinesses must clearly display the Check In Qld app QR code at each business entry used by staff members, visitors and contractors.
If anyone is unable to use the Check In Qld app, businesses can register them via the Business Profile mode of the Check In Qld app. If electronic collection is not possible, the business must collect and keep contact information using another method like a spreadsheet or paper-based form.
In addition, under this Direction, you must:
comply with public health controls such as cleaning and hygiene measures
comply with the occupant density in indoor spaces where reasonably practicable—no more than 1 person per 2 square metres.
While these requirements were effective upon the release of the Seasonal Workers International Quarantine Plans and Checklist Direction on 24 August 2021, they are mandatory from 1am on Friday 3 September 2021.
More information about employing seasonal workers in agribusiness and commercial fisheries during COVID-19, including the definition of a seasonal worker and COVID Safe requirements for employers, can be found at Business Queensland.
Vaccination
Agribusiness employers are encouraged to promote the COVID-19 vaccine to their workers. The State Government's engagement hub has information resources to help agribusiness employers discuss vaccination with their workers or seek further information. 
COVID-19 surveillance testing
Good news that farmers and agribusiness workers can now also complete their COVID-19 surveillance testing at the Goondiwindi Truck Stop located at the Caltex 227 Boundary Road, Goondiwindi. 
More information
If you require further information, please contact DAF by email: info@daf.qld.gov.au or call 13 25 23.