26 August 2021.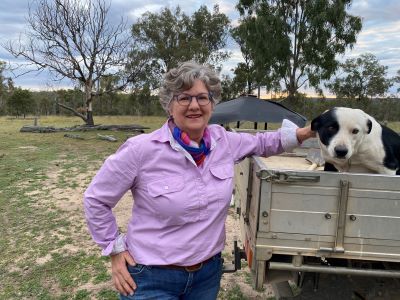 Introducing our farm fashionista!
AgForce General President Georgie Somerset has turned up the style dial for women in agriculture as part of a new campaign to raise money for sick children.
Georgie is one of 23 shirt ambassadors selected by Outback retailer Antola Trading to channel her inner supermodel while sharing inspirational stories of life on the land – and boosting funds for Ronald McDonald House Charity (RMHC).
Each ambassador has their own unique shirt named after them, and $2 from every shirt sale will go towards making life a little easier for hospitalised children and their families.
Georgie, who looks lovely in lilac, said she was delighted to be involved in the campaign – not least because she gets to look stylish at work, while raising much needed funds.
"Antola Trading have terrific work shirts, and are a great example of rural entrepreneurship," she said.
"This campaign combines storytelling and fashion to raise funds for RMHC, which is a fabulous cause."
Every year thousands of farming families travel far from their homes in regional Queensland to Brisbane to receive medical care for their children.
This can often be a time of high stress and financial difficulty, but RMHC helps to ease the burden by keeping families together and close to the hospital.

Antola Trading has also partnered with Humans of Agriculture to bring each of the shirt ambassadors' stories to people's ears for the first time through a series of podcasts.
Georgie's podcast is certainly worth a listen. She's a rural leader who, for more than 30 years, has juggled being actively involved in the family beef business while working for some remarkable organisations. 
What's more, as a woman of agriculture she doesn't want to compromise style over comfort.
"It's great to be able to wear a practical work shirt that is also fun and feminine," she said.
"I look for great cotton, fun colours, room for movement and did I mention the pockets that I can button up over my phone.
"The Antola Trading campaign means I think about the women behind the shirts I am wearing.
 "Hopefully by getting involved I can encourage more women to celebrate their role in agriculture."