19 July 2021.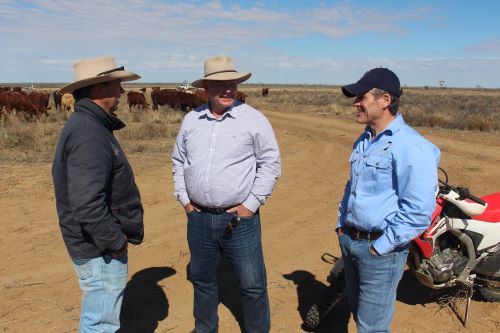 It's always great to get out and about with MPs.
And last week proved particularly productive, with plenty of face-to-face time with movers and shakers in the corridors of power.
AgForce hit the road on Thursday with Queensland's Resources Minister Stuart Scott, as he headed west to Charleville and Longreach.
Topics covered at various forums included stock route management, a comprehensive discussion on vegetation management and regulation, land valuations and objections processes, and resource sector interactions including CSG, small holder mining and development on floodplains.
We also handed the Minister our AgCarE Natural Capital Certification for Landscape Resilience program, which he read with interest.
On Tuesday AgForce CEO Michael Guerin and General Manager Policy Dale Miller (along with other agricultural representatives) attended an LNP Agriculture Energy and Water Council meeting.
In attendance were host Shadow Minister for Agriculture, Fisheries and Forestry Tony Perrett, as well as Shadow Minister for Water, Regional Development and Manufacturing Deb Frecklington, and Shadow Minister for Natural Resources, Mines and Energy Pat Weir.
Key member issues discussed included water and energy costs, resource sector development on floodplains, cane industry roadmap, renewable energy and biofuels, farm labour supply, water infrastructure and drought reform.
A constructive meeting, AgForce offered to provide broadacre industry perspectives to the LNP's policy development process, and the Council will hold regular meetings throughout the current term of government.
We also spent the beginning of the week showing the Honourable Shane Stone AC QC, Coordinator-General of the National Recovery and Resilience Agency around the South and North Burnett Regions, and into central Queensland.
Led by AgForce General President Georgie Somerset, we were able to show the impact of longitudinal drought and the strain that this has put on businesses, communities, and individuals.
It was fantastic to see first-hand how innovative, informed, and resilient Queensland's producers are - seeing new management techniques, new approaches, and building on strong foundations.
While in the regions we took the opportunity to link the agency in with the local governments of the area, further demonstrating the wide-reaching effects of drought, far beyond the farm gate.
We thank the Coordinator-General and the Agency for their interest and time to see these areas of Queensland that continue to see the impact of drought and a lack of water.
Make sure you check out our pictures for all the behind the scenes action on our Facebook page.